Features/Benefifits
Easy installation
Fail-safe /self-protected design
Very fast response
Hybrid GDT and Diode Technology
Long distance transmission
Good transmission effect
Strong anti-interference
complies IEC 61643-21 standard
SPD for CCTV Camera
HS2T-BNC is the series of devices for discharging transient overvoltages induced in coaxial lines. In accordance with IEC 61643-21. Coaxial format.
■Suitable for the protection of coaxial lines of TV and CCTV systems. By their nature, they are highly exposed to induced transient overvoltages (surges) associated with meteorological activity.
■Discharge capacity with an 8/20 μs waveform: 20 kA.
■No installation required. It connects directly to the equipment to be protected via BNC connectors.
■Available with optional Din-rail mountable.
Data sheet
Type

Technical Data

Application

HS2T-BNC

CCTV systems

Frequency

100 MHZ

Transmission Rate

16 Mb/s

Nominal voltage (Un)

5V

Maximum continuous operating voltage (UC)

8V

Nominal discharge current (8/20μs) (In)

10kA

Maximum discharge current (8/20μs) (Imax)

20kA

Voltage protection level (8/20μs) (Up)

≤ 120V

Maximumworking current (IL)

300mA

Impedance

75Ω

Response time (tA)

< 10ns

Degree of protection

IP 20

External materials

Aluminum

Temperature range

-40ºC~+80ºC

Altitude

13123 ft [4000m]

Connection (input – output)

BNC

Type of connection

Series (two ports)

For mounting on

Optional Din-rail mountable

Place of installation

indoor installation

Type of SPD

C2,C3

Product standards

IEC 61643-21, EN 61643-21
Dimensions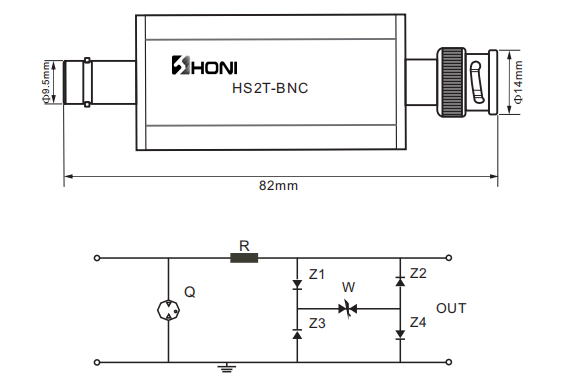 SPD for Telephone Line
---
---